CS-T180 Auto Chemistry Analyzer
Equipment type: Fully automatic, discrete, STAT priority
Analysis Throughput: 180T/h (single/double reagent) 540T/h combined with ISE
Test principle: Colorimetry, turbidimetry
Analysis method: End-point, kinetics, fixed-time, etc.
Packaging & Delivery
Packaging detail: Standard export package
Delivery detail: within 5-6 workdays after receipt of payment
Features of Auto-Chemistry Analyzer CS-T180:
1.High reagent and sample capacity (80 positions) flexibility
2.Automatically hemolysis function, easy operation and standardization for HbA1c test
3.Digital liquid level detection high sensitivity avoids bubbles' interference
4.Collision Protection
5.Visual QC assessment
6.Low water consumption
7.Small size, easy to place in narrow space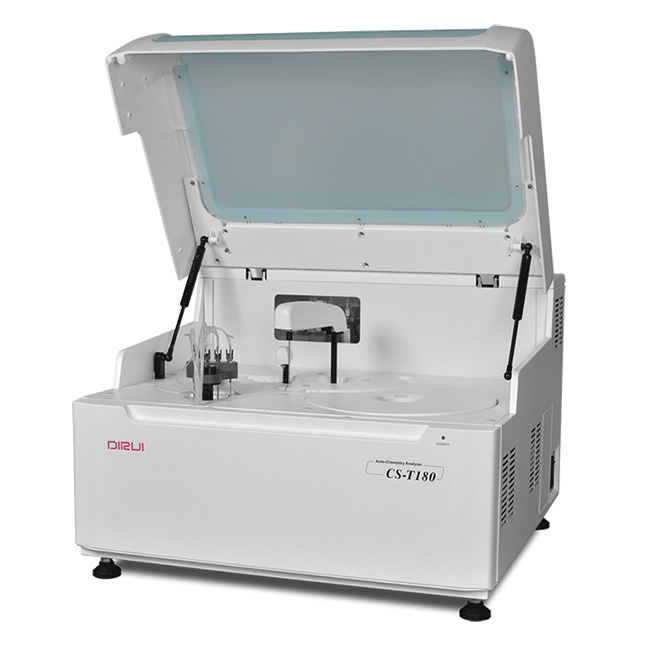 Specification of Auto-Chemistry Analyzer CS-T180:
Sample reagent unit Sample reagent position Up to 80 positions Sample cuvettes specification Standard cup, original blood tube, multi-specification tube available (Φ10~13)mm×(75~100)mm Sample reagent probe Liquid level detection and collision detection.
Reaction unit  Reaction cuvette 56 positions optical plastic cup Total volume of reaction liquid  100μl~360μl
Reaction temperature 37℃ Reaction disk constant temperature Air bath Mixer Mix immediately after adding reagent
Wastewater treatment With the function of concentrated waste liquid level alarming.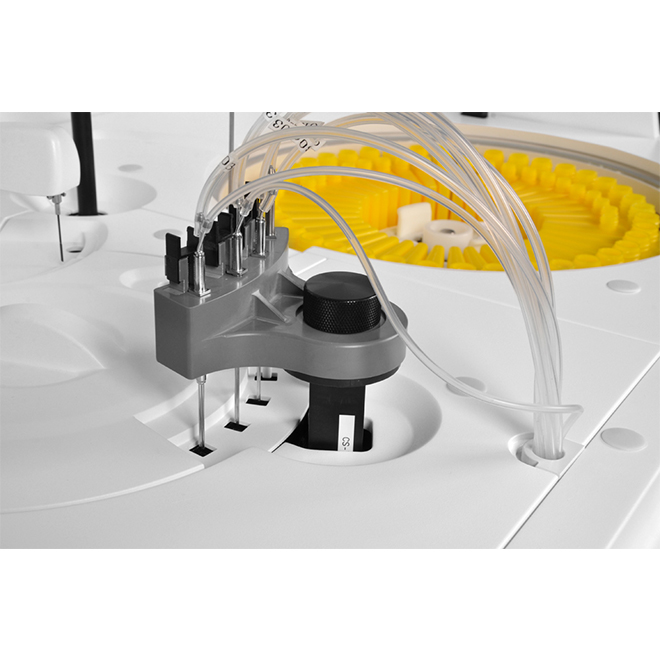 3.Optical system Light source 20W/12V halogen lamps. Monochromator Grating photometry Photoelectron road After spectrophotometry Wavelengths 340nm~800nm Detector Photodiode LED array.
4.Calibration and QC Calibration method 1 point linear method, 2 point linear method, multiple point linear method, non-linear method Calibration tracking Automatic description calibration K-value trends QC method Real-time QC, daily QC and monthly QC
Out of control processing: Alarming for out of control sample, record lost control reason.
5.Operating system PC operating system Windows 7 or Windows 10 Analysis control software Graphical operating software English version Report printing Report formats support the user-defined mode, QC and state information etc. System connection TCP/IP network connection, standard RJ-45.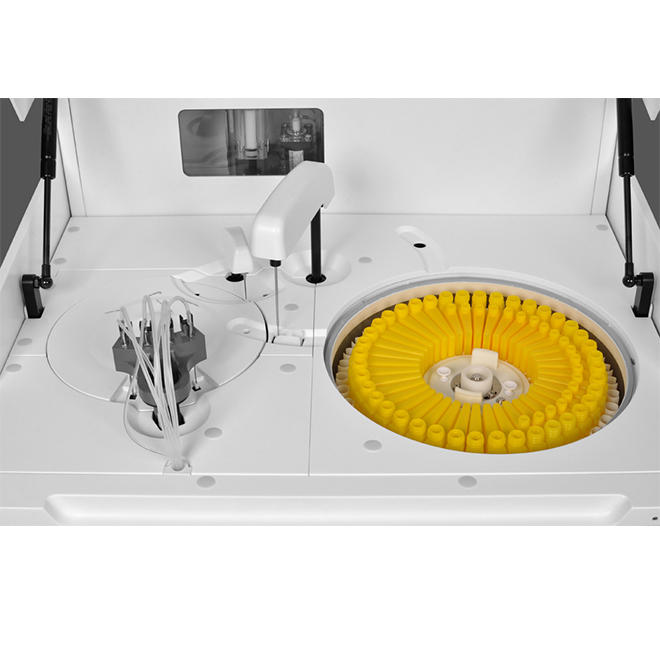 6.Others  Volume 744mm×703mm×530mm Weight 100kg Power supply Voltage AC 100V-240V, 50/60Hz, power 600VA.